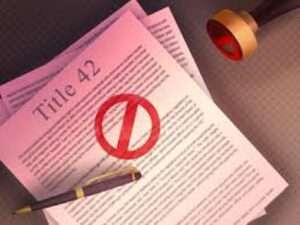 Yesterday, oral arguments that were originally scheduled by the Supreme Court were cancelled. Arizona v. MayorkasA case concerning Title 42 "public safety" expulsions of migrants near the southern border. The Court did not give any reason or indicate if the arguments would be rescheduled. The most likely reason the justices cancelled oral argument was that they believe the case will soon be overdue due to the Biden Administration's plan to end the Covid-19 National Emergency by May 11.  The Court might end the argument if that is the case. This could allow for Title 42 expulsions in the near future.
Donal Trump instituted Title 42 expulsions in March 2020 to prevent the spread of Covid. They were later maintained by Biden. The Centers for Disease Control current order authorizing expulsions states that they will end when the Covid state is lifted.
The Court is only concerned with a motion for intervention filed by a group red states alleging that the Biden Administration was not aggressively defending Title 42.