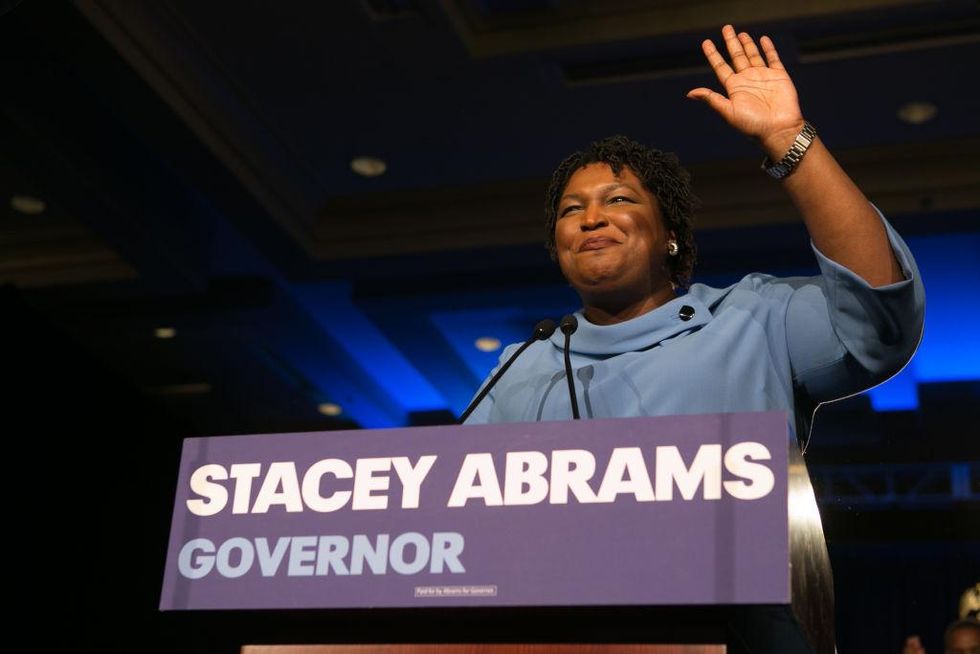 Georgia Democratic gubernatorial candidate Stacey Abrams advanced a false and unscientific claim about fetal heartbeats at a student forum in Atlanta on Tuesday.
"There is no such thing as a heartbeat at six weeks," she asserted at the Ray Charles Performing Arts Center, addressing an audience hosted by Morehouse College and Spelman College Democrats.
"It is a manufactured sound designed to convince people that men have a right to take control of a woman's body," she claimed, calling fetal heartbeats "medically false" and "biologically a lie."
Abrams, who is not a doctor, made those extraordinary claims in response to a question about how she would protect abortion rights if elected governor. She said that Georgia's six-week abortion ban, which restrictions abortions after a fetal heartbeat is detected, must be repealed.
"We ought to get rid of the bill. The bill is asinine, it is biologically inappropriate. It is morally wrong, and it should be confined to the dustbin of history," Abrams said.
But her claims are not medically accurate. The human heart is one of the first organs to form in a developing embryo. "The initiation of the first heart beat via the primitive heart tube begins at gestational day 22, followed by active fetal blood circulation by the end of week 4," according to a review of cardiac development published by Karger, a fetal medicine journal.
While it is true that an embryo does not have a fully formed heart at day 22, by the sixth week of gestation in pregnancy an unborn baby's primitive heartbeat can be detected by an ultrasound. Doctors refer to this as a "manufactured" sound because it is an electrical pulse picked up and translated into sound by the ultrasound machine. But that does not mean the heartbeat is not present and is fabricated by doctors, as Abrams falsely claimed.
The once-failed gubernatorial candidate has staked a radically pro-abortion position in her revenge campaign against Gov. Brian Kemp (R). She has said she supports abortion even "until the time of birth" in some circumstances, calling it a "medical decision, not a political decision."
At Tuesday's student forum, Abrams said abortion rights supporters need to be louder.
"We have to stop whispering about abortion rights in the shadows and talk about it openly," Abrams said. "It is about how we move our bodies. It is about how we live our lives. This is not a cultural issue. This is a medical issue, it is an economic issue, it is a moral issue, and it is our decision."
She added, "If they can take our vote, our right to control our bodies, they can take our right to decide who to love, they can take all of our civil liberties from us. And every time they chip away at a civil liberty, if you think you're safe, just wait, they're coming for you next."
Watch:

window.REBELMOUSE_LOWEST_TASKS_QUEUE.push(function(){
fetch(" { if (document.querySelector('.body-description')) { document.querySelector('.body-description').classList.remove('noshowbody'); } if (document.querySelector('.around-the-web')) { document.querySelector('.around-the-web').classList.remove('revshowbody'); } }).catch(function() { if (document.querySelector('.body-description')) { document.querySelector('.body-description').classList.add('revshowbody'); } if (document.querySelector('.around-the-web')) { document.querySelector('.around-the-web').classList.add('revshowbody'); } });
var script = document.createElement('script'); script.onload = function() { if (document.querySelector('.body-description')) { document.querySelector('.body-description').classList.add('revshowbody'); } }; script.src=" document.head.appendChild(script);
});
window.REBELMOUSE_LOWEST_TASKS_QUEUE.push(function(){
function CL(t,n){const o=new Set([]);document.querySelectorAll(t).forEach(e=>{n(e),o.add(e)});const e=new MutationObserver(()=>{const e=document.querySelectorAll(t);e.forEach(e=>{o.has(e)||(n(e),o.add(e))})});e.observe(document.body,{childList:!0,subtree:!0})}
console.log('ANYCLIP ON');
CL('.anyclipplayerz',function(a){ let pubname=a.getAttribute('pubname'),widgetname=a.getAttribute('widgetname'),src=" var s = document.createElement( 'script' );s.setAttribute( 'src', src );s.setAttribute( 'pubname', pubname );s.setAttribute( 'widgetname', widgetname );a.appendChild( s );
})
});
window.REBELMOUSE_LOWEST_TASKS_QUEUE.push(function(){
let observer = new IntersectionObserver((entries, observer) => { entries.forEach(entry => { if(entry.isIntersecting){document.querySelector('.topbar--sticky').classList.remove('sticky-active');document.querySelector('body').classList.add('stickybody')} else{document.querySelector('.topbar--sticky').classList.add('sticky-active');document.querySelector('body').classList.remove('stickybody')} }); }, {threshold: 1}); observer.observe(document.querySelector('.sticktrigr_desktop'));
});
window.REBELMOUSE_LOWEST_TASKS_QUEUE.push(function(){
window.REBELMOUSE_STDLIB.loadExternalScript("//use.typekit.net/ikb7lqs.js", function() {
try{Typekit.load({ async: true });}catch(e){}
});
});
window.REBELMOUSE_LOWEST_TASKS_QUEUE.push(function(){
//Facebook Pixel Code !function(f,b,e,v,n,t,s) {if(f.fbq)return;n=f.fbq=function(){n.callMethod? n.callMethod.apply(n,arguments):n.queue.push(arguments)}; if(!f._fbq)f._fbq=n;n.push=n;n.loaded=!0;n.version='2.0'; n.queue=[];t=b.createElement(e);t.async=!0; t.src=v;s=b.getElementsByTagName(e)[0]; s.parentNode.insertBefore(t,s)}(window, document,'script', ' fbq('init', '1398069580413568'); fbq('track', 'PageView');
});
window.REBELMOUSE_LOWEST_TASKS_QUEUE.push(function(){
function menuClick() { console.log("clicked");
if (document.querySelector('.hambg-btn.js--active') != null) { document.getElementsByClassName('huge-menu')[0].style.display = 'none'; document.getElementsByClassName('hambg-btn')[0].classList.remove('js--active'); document.body.classList.remove("huge-menu-opened"); document.body.classList.remove("menu-opened"); } else{ document.getElementsByClassName('huge-menu')[0].style.display = 'block'; document.getElementsByClassName('hambg-btn')[0].classList.add('js--active'); document.body.classList.add("huge-menu-opened"); document.body.classList.remove("menu-opened"); } }
function addMenuClickListener() { var rebelMenu = document.getElementsByClassName('rebelbar__menu-toggle'); var menuClose = document.getElementsByClassName('hm__close'); var stickyMenu = document.getElementsByClassName('sticky-menu');
rebelMenu[0].addEventListener('click', menuClick);
if(menuClose[0] != undefined){ menuClose[0].addEventListener('click', menuClick);}
if(stickyMenu[0] != undefined){ stickyMenu[0].addEventListener('click', menuClick); } }
addMenuClickListener();
});
window.REBELMOUSE_LOWEST_TASKS_QUEUE.push(function(){
document.querySelector(".hambg-btn").addEventListener("click", function(){ document.querySelector("body").classList.add("huge-menu-opened"); });
document.querySelector(".hm__close").addEventListener("click", function(){ document.querySelector("body").classList.remove("huge-menu-opened"); });
});
window.REBELMOUSE_LOWEST_TASKS_QUEUE.push(function(){
function ChangeListener(t,n){ const o=new Set([]); document.querySelectorAll(t).forEach(e=>{n(e),o.add(e)}); const e=new MutationObserver(()=>{ const e=document.querySelectorAll(t); e.forEach(e=>{o.has(e)||(n(e),o.add(e))}); }); e.observe(document.body,{childList:!0,subtree:!0});
}
const sailthru_observer = new MutationObserver((mutations, obs) => { const sailthru_element_button = document.querySelector('.sailthru_element_button'); if (sailthru_element_button) { sailthru_element_button.style.display='none'; sailthru_element_button.insertAdjacentHTML("afterend", '
I WANT TO BE INFORMED');
obs.disconnect(); return; } });
sailthru_observer.observe(document, { childList: true, subtree: true, characterDataOldValue: true });
const sailthru_observer_email = new MutationObserver((mutations, obs_email) => { const sailthru_element_email_input = document.querySelector('.sailthru_element_email-input'); if (sailthru_element_email_input) { sailthru_element_email_input.setAttribute('data-validation','required');
obs_email.disconnect(); return; } });
sailthru_observer_email.observe(document, { childList: true, subtree: true, characterDataOldValue: true });
function getRandomInt(max) { return Math.floor(Math.random() * max); }
let verify_line = document.querySelector('.verify_line'); let validationinput = document.querySelector('.validationinput'); let verify_submit = document.querySelector('.verify_submit');
function validation_set() {
let validation1=getRandomInt(10); let validation2=getRandomInt(10); let validationsum=validation1+validation2; document.querySelector('.validationsum').innerText=validation1+' + '+validation2+' = ';
validationinput.value=""; verify_line.innerText="Please Verify";
validationinput.addEventListener('input', function (event) {
if(validationinput.value==validationsum) { verify_submit.removeAttribute('disabled'); verify_line.innerText="Validation complete :)"; } else { verify_submit.setAttribute('disabled',''); verify_line.innerText="Validation failed :("; }
if(validationinput.value.length==0){ verify_line.innerText="Please Verify"; }
});
}
validation_set();
ChangeListener('.verify_close',function(EL){
EL.addEventListener('click', function () { document.querySelector('#verifymodal').style.display='none';}) });
ChangeListener('.validation_dummy',function(EL){ EL.addEventListener('click', function () {
console.log(EL.querySelector("#topcheck").value);
if(EL.querySelector("#topcheck").value == ''){
document.querySelector('#verifymodal').style.display='block';
}else{ EL.querySelector(".message_bot_error").style.display = "block"; EL.querySelector("span").style.display = "none";
}
}); });
ChangeListener('.verify_submit',function(EL){ EL.addEventListener('click', function () { document.querySelector('#verifymodal').style.display='none'; console.log('CLICKED'); document.querySelector('.sailthru_element_button').click(); }); });
ChangeListener('.verify_reset',function(EL){ EL.addEventListener('click', function () { validation_set(); }); });
});
window.REBELMOUSE_LOWEST_TASKS_QUEUE.push(function(){
(function(){ var s = document.createElement('script'), e = ! document.body ? document.querySelector('head') : document.body; s.src=" s.async = true; s.onload = function(){ acsbJS.init({ statementLink : '', footerHtml : 'Blaze Media', hideMobile : true, hideTrigger : false, language : 'en', position : 'right', leadColor : '#eb002b', triggerColor : '#eb002b', triggerRadius : '50%', triggerPositionX : 'right', triggerPositionY : 'bottom', triggerIcon : 'settings', triggerSize : 'small', triggerOffsetX : 20, triggerOffsetY : 20, mobile : { triggerSize : 'small', triggerPositionX : 'right', triggerPositionY : 'bottom', triggerOffsetX : 10, triggerOffsetY : 0, triggerRadius : '50%' } }); }; e.appendChild(s);}());
});
window.REBELMOUSE_LOWEST_TASKS_QUEUE.push(function(){
!(function(o,n,t){t=o.createElement(n),o=o.getElementsByTagName(n)[0],t.async=1,t.src=" t(){(t.q=t.q||[]).push(arguments)}t.v=1,o.admiral=o.admiral||t})(window);!(function(o,t,n,c){function e(n){(function(){try{return(localStorage.getItem("v4ac1eiZr0")||"").split(",")[4]>0}catch(o){}return!1})()&&(n=o[t].pubads())&&n.setTargeting("admiral-engaged","true")}(c=o[t]=o[t]||{}).cmd=c.cmd||[],typeof c.pubads===n?e():typeof c.cmd.unshift===n?c.cmd.unshift(e):c.cmd.push(e)})(window,"googletag","function");
});
window.REBELMOUSE_LOWEST_TASKS_QUEUE.push(function(){
const container = document.querySelector('body')
var elP = document.createElement('p');
const observer = new MutationObserver((mutations, obs) => { const spopup = document.getElementById('sailthru-overlay-container'); if (spopup) { console.log(spopup); document.querySelector('.sailthru_element_email-input').addEventListener("keypress", function(event) { if (event.key === "Enter") { event.preventDefault(); document.querySelector('.sailthru-overlay-validation-error').style.display = 'none'; } }); spopup.appendChild(elP); obs.disconnect(); return; } }); observer.observe(document, { childList: true, subtree: true });
});
window.REBELMOUSE_LOWEST_TASKS_QUEUE.push(function(){
window.REBELMOUSE_STDLIB.loadExternalScript(" function() {
window.analyticsData = { events: {active: {view: {asset: {}}, device: {}}} }; window.analyticsData.events.active.device.appVersion = "1.1"; window.analyticsData.events.active.device.host = "premiere.off.us"; window.analyticsData.events.active.device.subHost = "theblaze.com"; window.analyticsData.events.active.pageName = "articles"; //window.analyticsData.events.active.view.asset.id = "articles|"+ __BOOTSTRAP__.post.basename; window.analyticsData.events.active.view.asset.name = document.title; //window.analyticsData.events.active.view.authorId = __BOOTSTRAP__.post.original_user_subsite.title; window.analyticsData.events.active.view.pubDate = "09/22/2022"; window.analyticsData.events.active.view.contentOriginType = "Premiere"; window.analyticsData.events.active.view.stationCallLetter = "TheBlaze"; window.analyticsData.events.active.view.stationFormat = "NEWSTALK"; window.analyticsData.events.active.view.stationMarket = "PREMIERE"; window.analyticsData.events.active.view.personalityId = "theBlaze"; window.analyticsData.events.active.view.tags = ["stacey-abrams", "abortion", "georgia", "fetal-heartbeat-law", "fetal-heartbeat", "fetal-medicine", "brian-kemp"]; window.analyticsData.events.active.view.photoGalleryExists = "FALSE"; window.analyticsData.events.active.view.photoGalleryPageView = "FALSE"; window.analyticsData.events.active.view.contentFrame = "page"; window._satellite && _satellite.pageBottom();
});
});
window.REBELMOUSE_LOWEST_TASKS_QUEUE.push(function(){
function test_adblock(func, id) { var t="0.1.2-dev", el = document.createElement('div'); el.id = id ? id : 'sponsorText'; el.appendChild(document.createTextNode(' ')); Object.assign(el.style, { left: '-999px', position: 'absolute' }); document.body.appendChild(el); setTimeout(function() { if (el) { var o = el.clientHeight === 0; func(o, t); document.body.removeChild(el); } }, 200); } test_adblock(function(is_blocked) { console.log(is_blocked); var wid = is_blocked ? 140286 : 140117, target = document.getElementById('rc-adblock-widget'); var el = document.createElement('div'); el.setAttribute('data-rc-widget', ''); el.setAttribute('data-endpoint', 'trends.revcontent.com'); el.setAttribute('data-widget-id', wid); target.appendChild(el); if (typeof window.renderRCWidget !== 'function') { var script = document.createElement('script'); script.src=" script.defer = true; target.appendChild(script); } else { window.renderRCWidget(el) } });
});
window.REBELMOUSE_LOWEST_TASKS_QUEUE.push(function(){
window.REBELMOUSE_STDLIB.loadExternalScript(" function() {
});
});
window.REBELMOUSE_LOWEST_TASKS_QUEUE.push(function(){
if(document.querySelector("#icheck").value != ''){ document.querySelector(".message_bot_error").style.display = "block"; }else{ document.querySelector(".message_bot_error").style.display = "none"; }
});
window.REBELMOUSE_LOWEST_TASKS_QUEUE.push(function(){
(function(s,u,m,o,j,v){j=u.createElement(m);v=u.getElementsByTagName(m)[0];j.async=1;j.src=o;j.dataset.sumoSiteId='f20bb26e74a94a53daa9113206b98941e1dfba90635d317b9efd9e33a89bf515';v.parentNode.insertBefore(j,v)})(window,document,'script','//load.sumo.com/');
});
window.REBELMOUSE_LOWEST_TASKS_QUEUE.push(function(){
var event = new Event('viewRegistry:initViews'); // Listen for the event. elem.addEventListener('viewRegistry:initViews', function() { window.COMSCORE && COMSCORE.beacon({c1: "2", c2: "6036262"}); });
// Dispatch the event. elem.dispatchEvent(event);
});