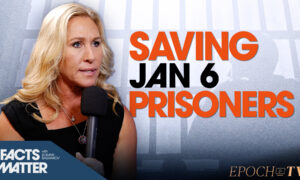 This video is brought to you by Sekur: 
---
In this interview, Roman sat down with Rep. Marjorie Taylor Greene (R-Ga.) to discuss several issues, including the Jan. 6 political prisoners, her voting history as a first-term congresswoman, the impact lobbyists and PACs have on our political process, and how she copes with the barrage of death threats from proponents of the political left.
Greene recounts the reprehensible living conditions for Jan. 6 prisoners, which she witnessed during her visit to a D.C. jail that inspired her to take the lead on forming a committee to investigate these incarcerations should Republicans take back the House in November.
Green also voices her desire to be able to vote on bills that are single-issue but admits that "Congress just doesn't work that way" due in large part to the outsized influence wielded by special interest groups.
---
Stay tuned for our newsletter so you won't miss out on our exclusive videos and private events.
Listen to Podcasts:
iTunes Podcast: https://ept.ms/FactsMatterApplePodcast
Spotify Podcast: https://ept.ms/FactsMatterSpotifyPodcast
Google Podcast:
Follow Facts Matter on social media:
Twitter: https://twitter.com/FactsMatterRB
Truth Social: https://truthsocial.com/@FactsMatterRoman
Gettr: https://gettr.com/user/factsmatterrb
Gab: https://gab.com/factsmatterroman
Telegram: https://t.me/FactsMatter_Roman
Instagram: @epoch.times.roman