A Missouri family got quite the surprise when they looked on their surveillance video cameras to find out who started a fire at their home.
It was the dog.
Firefighters said the fire broke out at about 8:40 a.m. on Friday. No one was home at the time except for two dogs.
The video from the Kansas City home shows the family dog jumping up to touch their kitchen stove and then walk away. A glow from one of the stove burners is visible before it explodes into a fire from the grease in a pan from the previous night.
Firefighters with the Southern Platte Fire Protection District had to save the arsonist dog and another dog when they arrived at the home. One of the dogs had to be given oxygen to be revived.
The house was damaged significantly in the fire. The Southern Platte Fire Protection District said that the family authorized the release of the video and photographs of the damage to their home.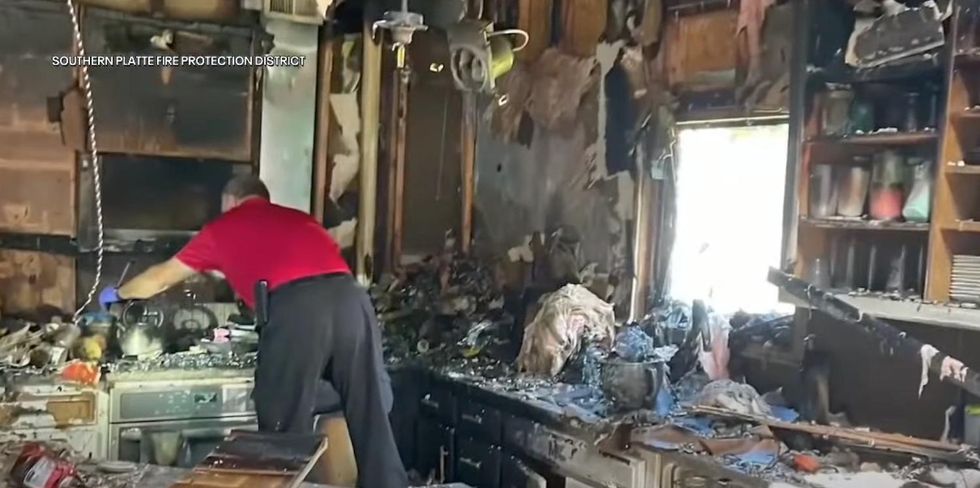 Image Source: WTXF-TV YouTube video screenshot
"New appliances have are being seen with touch controls that activate by the simple touch of a finger," said Division Chief Chris Denney to Fox News Digital.
"An animals paw can also activate these types of controls," he added. "Please use built in safety's if available on appliances when not in use and accessible by children and/or animals."
Firefighters noted the irony in helping the dog that started the fire from which he was rescued.
"To have a dog create that perfect storm," said Southern Platte Fire Protection District Captain Chris Alvarado to WTXF-TV.
"And then he's the dog that we have to bring out and revive!" Alvarado laughed. "Yeah, so it was a happy ending, they were happy, their dogs survived."
Here's a local news video about the incident:


Dog ignites grease fire by jumping onto kitchen stove

www.youtube.com

window.REBELMOUSE_LOWEST_TASKS_QUEUE.push(function(){
//Facebook Pixel Code !function(f,b,e,v,n,t,s) {if(f.fbq)return;n=f.fbq=function(){n.callMethod? n.callMethod.apply(n,arguments):n.queue.push(arguments)}; if(!f._fbq)f._fbq=n;n.push=n;n.loaded=!0;n.version='2.0'; n.queue=[];t=b.createElement(e);t.async=!0; t.src=v;s=b.getElementsByTagName(e)[0]; s.parentNode.insertBefore(t,s)}(window, document,'script', ' fbq('init', '1398069580413568'); fbq('track', 'PageView');
});
window.REBELMOUSE_LOWEST_TASKS_QUEUE.push(function(){
function menuClick() { console.log("clicked");
if (document.querySelector('.hambg-btn.js--active') != null) { document.getElementsByClassName('huge-menu')[0].style.display = 'none'; document.getElementsByClassName('hambg-btn')[0].classList.remove('js--active'); document.body.classList.remove("huge-menu-opened"); document.body.classList.remove("menu-opened"); } else{ document.getElementsByClassName('huge-menu')[0].style.display = 'block'; document.getElementsByClassName('hambg-btn')[0].classList.add('js--active'); document.body.classList.add("huge-menu-opened"); document.body.classList.remove("menu-opened"); } }
function addMenuClickListener() { var rebelMenu = document.getElementsByClassName('rebelbar__menu-toggle'); var menuClose = document.getElementsByClassName('hm__close'); var stickyMenu = document.getElementsByClassName('sticky-menu');
rebelMenu[0].addEventListener('click', menuClick);
if(menuClose[0] != undefined){ menuClose[0].addEventListener('click', menuClick);}
if(stickyMenu[0] != undefined){ stickyMenu[0].addEventListener('click', menuClick); } }
addMenuClickListener();
});
window.REBELMOUSE_LOWEST_TASKS_QUEUE.push(function(){
const container = document.querySelector('body')
var elP = document.createElement('p');
const observer = new MutationObserver((mutations, obs) => { const spopup = document.getElementById('sailthru-overlay-container'); if (spopup) { console.log(spopup); document.querySelector('.sailthru_element_email-input').addEventListener("keypress", function(event) { if (event.key === "Enter") { event.preventDefault(); document.querySelector('.sailthru-overlay-validation-error').style.display = 'none'; } }); spopup.appendChild(elP); obs.disconnect(); return; }
observer.observe(document, { childList: true, subtree: true });
});
window.REBELMOUSE_LOWEST_TASKS_QUEUE.push(function(){
window.REBELMOUSE_STDLIB.loadExternalScript(" function() {
window.analyticsData = { events: {active: {view: {asset: {}}, device: {}}} }; window.analyticsData.events.active.device.appVersion = "1.1"; window.analyticsData.events.active.device.host = "premiere.off.us"; window.analyticsData.events.active.device.subHost = "theblaze.com"; window.analyticsData.events.active.pageName = "articles"; //window.analyticsData.events.active.view.asset.id = "articles|"+ __BOOTSTRAP__.post.basename; window.analyticsData.events.active.view.asset.name = document.title; //window.analyticsData.events.active.view.authorId = __BOOTSTRAP__.post.original_user_subsite.title; window.analyticsData.events.active.view.pubDate = "06/15/2022"; window.analyticsData.events.active.view.contentOriginType = "Premiere"; window.analyticsData.events.active.view.stationCallLetter = "TheBlaze"; window.analyticsData.events.active.view.stationFormat = "NEWSTALK"; window.analyticsData.events.active.view.stationMarket = "PREMIERE"; window.analyticsData.events.active.view.personalityId = "theBlaze"; window.analyticsData.events.active.view.tags = ["dog-starts-grease-fire", "arsonist-dog", "dog-arson", "grease-fire-started-by-dog", "arson-dog-caught-on-video"]; window.analyticsData.events.active.view.photoGalleryExists = "FALSE"; window.analyticsData.events.active.view.photoGalleryPageView = "FALSE"; window.analyticsData.events.active.view.contentFrame = "page"; window._satellite && _satellite.pageBottom();
});
});
window.REBELMOUSE_LOWEST_TASKS_QUEUE.push(function(){
function test_adblock(func, id) { var t="0.1.2-dev", el = document.createElement('div'); el.id = id ? id : 'sponsorText'; el.appendChild(document.createTextNode(' ')); Object.assign(el.style, { left: '-999px', position: 'absolute' }); document.body.appendChild(el); setTimeout(function() { if (el) { var o = el.clientHeight === 0; func(o, t); document.body.removeChild(el); } }, 200); } test_adblock(function(is_blocked) { console.log(is_blocked); var wid = is_blocked ? 140286 : 140117, target = document.getElementById('rc-adblock-widget'); var el = document.createElement('div'); el.setAttribute('data-rc-widget', ''); el.setAttribute('data-endpoint', 'trends.revcontent.com'); el.setAttribute('data-widget-id', wid); target.appendChild(el); if (typeof window.renderRCWidget !== 'function') { var script = document.createElement('script'); script.src=" script.defer = true; target.appendChild(script); } else { window.renderRCWidget(el) } });
});
window.REBELMOUSE_LOWEST_TASKS_QUEUE.push(function(){
window.REBELMOUSE_STDLIB.loadExternalScript(" function() {
});
});
window.REBELMOUSE_LOWEST_TASKS_QUEUE.push(function(){
if(document.querySelector("#icheck").value != ''){ document.querySelector(".message_bot_error").style.display = "block"; }else{ document.querySelector(".message_bot_error").style.display = "none"; }
});
window.REBELMOUSE_LOWEST_TASKS_QUEUE.push(function(){
(function(s,u,m,o,j,v){j=u.createElement(m);v=u.getElementsByTagName(m)[0];j.async=1;j.src=o;j.dataset.sumoSiteId='f20bb26e74a94a53daa9113206b98941e1dfba90635d317b9efd9e33a89bf515';v.parentNode.insertBefore(j,v)})(window,document,'script','//load.sumo.com/');
});
window.REBELMOUSE_LOWEST_TASKS_QUEUE.push(function(){
var event = new Event('viewRegistry:initViews'); // Listen for the event. elem.addEventListener('viewRegistry:initViews', function() { window.COMSCORE && COMSCORE.beacon({c1: "2", c2: "6036262"}); });
// Dispatch the event. elem.dispatchEvent(event);
});