Michelle Young Responded to False Rumors She Was Dating Someone Pre-Bachelorette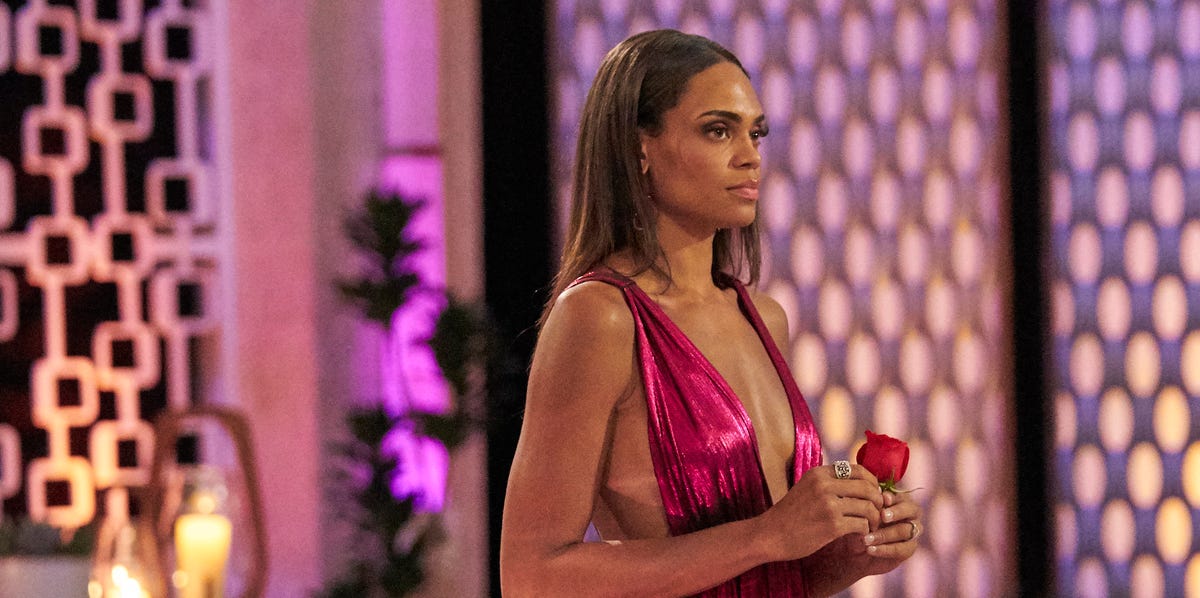 Last night's episode of The Bachelorette was all kinds of dramatic thanks to a rumor that Michelle Young had potentially been in a relationship right before filming the show. Which, nope! Not true!
During the second group date of the episode, Michelle bonded with Joe and gave him the rose—which caused some mild cocktail party speculation that they knew each other pre-show. On top of that, Jamie claimed that one of his friends had heard Michelle was in a relationship pre-show, and decided to confront her—saying everyone in the house was questioning her (even though they definitely weren't and most of them weren't even clued into these rumors).
Michelle said she was totally blindsided, and ended up speaking to the men, explaining what we already knew: that Joe had slid into her DMs and then ghosted her after two messages, and they'd never met before.
"I was made aware that there was a lot of conversation in the house about whether or not Joe and I knew each other before. What I want you guys to know is that, that first night when all of y'all walked in was the first night that I was meeting every single one of you for the first time," she said. "Joe and I exchanged a few messages quite a few years back… we kind of joke about it now, but Joe ghosted me after two messages and that was that."
This content is imported from YouTube. You may be able to find the same content in another format, or you may be able to find more information, at their web site.
She added, "Also there's a rumor about me being spotted with a 'light-skinned basketball dude' before the show. Being a woman of color, you know, in Minnesota, any time I'm with a man of color, we're a couple, that's what everyone sees it as. I can have a romantic dinner with a white guy in a restaurant and nobody would say, 'Oh, they're a couple.' But because it's another Black man, we're supposed to be together. And it's frustrating because I'm open to all of you. What I want to do for you guys is I want to open it up for questions."
Honestly, everyone seemed surprised that Michelle was having to address these rumors since no one but Jamie was concerned about them, and naturally they wanted to know who talked to Michelle. As Romeo put it, "I don't know who conjured this up, but I feel like this person will make some kind of other mistake and will eventually be exposed. What's still a big question mark in everyone's mind is, who spoke to Michelle?"
This content is created and maintained by a third party, and imported onto this page to help users provide their email addresses. You may be able to find more information about this and similar content at piano.io
Published at Wed, 27 Oct 2021 12:01:00 +0000
https://www.cosmopolitan.com/entertainment/tv/a38076888/michelle-young-dating-pre-bachelorette-rumors/