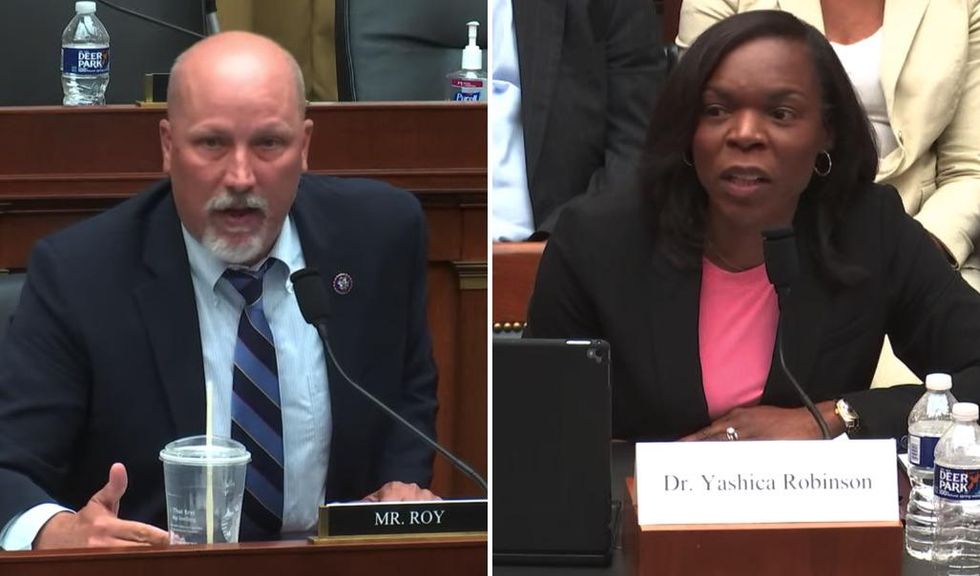 An Alabama physician who performs abortions accused Rep. Chip Roy (R-Texas) of using "inflammatory language" Wednesday after he described the brutal reality of abortion procedures.
What happened?
During a tense House Judiciary Committee hearing, Roy asked Dr. Yashica Robinson — who operates one of three facilities in Alabama that provide abortions, according to AL.com — about her experience aborting unborn children.
"What is the latest you have performed an abortion in terms of weeks of the unborn child?" Roy asked directly.
Unfortunately, Robinson appeared uninterested in answering Roy's question.
"Yes, my name is Dr. Robinson and I provide abortion care in Alabama. So Alabama has restrictions —" she responded before Roy interjected.
"What is the answer to the question? The latest that you have performed an abortion?" the congressman asked again.
"I'm going to answer your question," Robinson responded. "So, unfortunately, my state is one of those states that has passed bans or restrictions on abortion care, which limits physicians like myself —"
"In other words, you'd like to do it later," Roy interjected again, before asking a third time, "What is the latest you have performed an abortion?"
Robinson finally answered, "Well, since I will always follow the law and I live in the state of Alabama, I provide abortion care up until 20 weeks gestational age."
After Robinson admitted to aborting 20-week-old unborn children, Roy pressed Robinson on abortion procedures.
"OK, so you performed an abortion at 20 weeks. The procedure for an abortion, when we're talking about at 20 weeks, as I understand it, is dilation and extraction," he noted before asking his next question, "Have you performed abortions at that stage and, in doing so, have you had baby parts that you've had to discard or store in some capacity? Legs, arms, eyes?"
However, instead of answering the question, Robinson complained about Roy's choice of words.
"One of the things that you all have done throughout this hearing is use inflammatory language as you talk about —" Robinson said.
"No, it's a question," Roy shot back. "Ma'am, ma'am, it's a simple question. Have you had human parts, baby parts, arms, legs, as a result of an abortion performed, at the time you just acknowledged you perform abortions, up to 20 weeks?"
Robinson responded that she is a "proud abortion provider" and claimed "there is nothing that you can say that makes it difficult for me to talk about the care that I provide."
The Texas congressman said Robinson's repeated deflections and apparent refusal to discuss the horrors of abortion indicated that she did not want "to talk about the reality of what actually happens" in abortion procedures.
During her testimony, Robinson claimed abortion is "essential health care" and alleged that "racism and white supremacy" are behind the "abortion access crisis."

Revoking Your Rights: The Ongoing Crisis in Abortion Care Access

youtu.be

window.REBELMOUSE_LOWEST_TASKS_QUEUE.push(function(){
//Facebook Pixel Code !function(f,b,e,v,n,t,s) {if(f.fbq)return;n=f.fbq=function(){n.callMethod? n.callMethod.apply(n,arguments):n.queue.push(arguments)}; if(!f._fbq)f._fbq=n;n.push=n;n.loaded=!0;n.version='2.0'; n.queue=[];t=b.createElement(e);t.async=!0; t.src=v;s=b.getElementsByTagName(e)[0]; s.parentNode.insertBefore(t,s)}(window, document,'script', ' fbq('init', '1398069580413568'); fbq('track', 'PageView');
});
window.REBELMOUSE_LOWEST_TASKS_QUEUE.push(function(){
function menuClick() { console.log("clicked");
if (document.querySelector('.hambg-btn.js--active') != null) { document.getElementsByClassName('huge-menu')[0].style.display = 'none'; document.getElementsByClassName('hambg-btn')[0].classList.remove('js--active'); document.body.classList.remove("huge-menu-opened"); document.body.classList.remove("menu-opened"); } else{ document.getElementsByClassName('huge-menu')[0].style.display = 'block'; document.getElementsByClassName('hambg-btn')[0].classList.add('js--active'); document.body.classList.add("huge-menu-opened"); document.body.classList.remove("menu-opened"); } }
function addMenuClickListener() { var rebelMenu = document.getElementsByClassName('rebelbar__menu-toggle'); var menuClose = document.getElementsByClassName('hm__close'); var stickyMenu = document.getElementsByClassName('sticky-menu');
rebelMenu[0].addEventListener('click', menuClick);
if(menuClose[0] != undefined){ menuClose[0].addEventListener('click', menuClick);}
if(stickyMenu[0] != undefined){ stickyMenu[0].addEventListener('click', menuClick); } }
addMenuClickListener();
});
window.REBELMOUSE_LOWEST_TASKS_QUEUE.push(function(){
if(document.querySelectorAll("#topcheck").value != ''){ document.querySelector(".message_bot_error").style.display = "block"; }else{ document.querySelector(".message_bot_error").style.display = "none"; }
});
window.REBELMOUSE_LOWEST_TASKS_QUEUE.push(function(){
const container = document.querySelector('body')
var elP = document.createElement('p');
const observer = new MutationObserver((mutations, obs) => { const spopup = document.getElementById('sailthru-overlay-container'); if (spopup) { console.log(spopup); spopup.appendChild(elP); obs.disconnect(); return; } });
observer.observe(document, { childList: true, subtree: true });
});
window.REBELMOUSE_LOWEST_TASKS_QUEUE.push(function(){
window.REBELMOUSE_STDLIB.loadExternalScript(" function() {
window.analyticsData = { events: {active: {view: {asset: {}}, device: {}}} }; window.analyticsData.events.active.device.appVersion = "1.1"; window.analyticsData.events.active.device.host = "premiere.off.us"; window.analyticsData.events.active.device.subHost = "theblaze.com"; window.analyticsData.events.active.pageName = "articles"; //window.analyticsData.events.active.view.asset.id = "articles|"+ __BOOTSTRAP__.post.basename; window.analyticsData.events.active.view.asset.name = document.title; //window.analyticsData.events.active.view.authorId = __BOOTSTRAP__.post.original_user_subsite.title; window.analyticsData.events.active.view.pubDate = "05/19/2022"; window.analyticsData.events.active.view.contentOriginType = "Premiere"; window.analyticsData.events.active.view.stationCallLetter = "TheBlaze"; window.analyticsData.events.active.view.stationFormat = "NEWSTALK"; window.analyticsData.events.active.view.stationMarket = "PREMIERE"; window.analyticsData.events.active.view.personalityId = "theBlaze"; window.analyticsData.events.active.view.tags = ["abortion", "house-judiciary-committee", "dr-yashica-robinson", "chip-roy"]; window.analyticsData.events.active.view.photoGalleryExists = "FALSE"; window.analyticsData.events.active.view.photoGalleryPageView = "FALSE"; window.analyticsData.events.active.view.contentFrame = "page"; window._satellite && _satellite.pageBottom();
});
});
window.REBELMOUSE_LOWEST_TASKS_QUEUE.push(function(){
function test_adblock(func, id) { var t="0.1.2-dev", el = document.createElement('div'); el.id = id ? id : 'sponsorText'; el.appendChild(document.createTextNode(' ')); Object.assign(el.style, { left: '-999px', position: 'absolute' }); document.body.appendChild(el); setTimeout(function() { if (el) { var o = el.clientHeight === 0; func(o, t); document.body.removeChild(el); } }, 200); } test_adblock(function(is_blocked) { console.log(is_blocked); var wid = is_blocked ? 140286 : 140117, target = document.getElementById('rc-adblock-widget'); var el = document.createElement('div'); el.setAttribute('data-rc-widget', ''); el.setAttribute('data-endpoint', 'trends.revcontent.com'); el.setAttribute('data-widget-id', wid); target.appendChild(el); if (typeof window.renderRCWidget !== 'function') { var script = document.createElement('script'); script.src=" script.defer = true; target.appendChild(script); } else { window.renderRCWidget(el) } });
});
window.REBELMOUSE_LOWEST_TASKS_QUEUE.push(function(){
window.REBELMOUSE_STDLIB.loadExternalScript(" function() {
});
});
window.REBELMOUSE_LOWEST_TASKS_QUEUE.push(function(){
if(document.querySelector("#icheck").value != ''){ document.querySelector(".message_bot_error").style.display = "block"; }else{ document.querySelector(".message_bot_error").style.display = "none"; }
});
window.REBELMOUSE_LOWEST_TASKS_QUEUE.push(function(){
(function(s,u,m,o,j,v){j=u.createElement(m);v=u.getElementsByTagName(m)[0];j.async=1;j.src=o;j.dataset.sumoSiteId='f20bb26e74a94a53daa9113206b98941e1dfba90635d317b9efd9e33a89bf515';v.parentNode.insertBefore(j,v)})(window,document,'script','//load.sumo.com/');
});