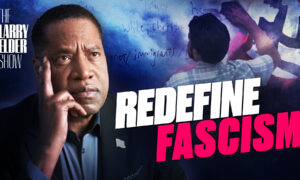 Beware of what your children's teachers are teaching students this year. Many are engaging in radical, left-wing indoctrination and they think they can get away with it.
According to Washington examiners commentary writer Christopher Tremoglie's exclusive report, a student claimed that a teacher at Madison High School in San Diego wrote on his classroom's dry-erase board that "fascist" are people who are "white," "heterosexual," "Christian," and "Trump supporters" (in addition to President Trump." He also said the modern-day Republican Party is fascist.
BUY Jan 6 DVD: Promo Code "Larry" for 20% off.
——
* Click the "Save" button below the video to access it later on "My List."
Follow EpochTV on social media:
Twitter: https://twitter.com/EpochTVus
Rumble: https://rumble.com/c/EpochTV
Truth Social:
Gettr: https://gettr.com/user/epochtv
Facebook: https://www.facebook.com/EpochTVus
Gab: https://gab.com/EpochTV
Telegram: