Does Anya Taylor-Joy Really Sing in 'Last Night in Soho'?
Not every actor can sing; Rami Malek's vocals were mixed with Freddie Mercury and impersonator Marc Martel in Bohemian Rhapsody for example, and let's not even go into Russell Crowe's singing in Les Miserables.
Anya Taylor-Joy was tasked with performing in Last Night in Soho, where she takes on the role of aspiring singer Sandie.
In the psychological thriller, directed by Edgar Wright, the Queen's Gambit star features in a scene where her character does a rendition of "Downtown" by Petula Clark for Matt Smith's Jack.
Does Anya Taylor-Joy really sing in Last Night in Soho?
The scene has no music to accompany Taylor-Joy as she sings A Capella on stage, auditioning for Jack and a club owner in the hopes of bagging a regular gig at the venue.
Left on her own, Taylor-Joy has very little room to make mistakes and luckily she more than holds her own as she sings a downtempo version of the track.
Ahead of the film's release, Focus Features shared a music video where the actor performed the song in a recording booth in which instrumental music was added alongside her vocals.
The music video acts a preview to the film and features scenes from both Taylor-Joy's scenes, which are set in the 60s, and Eloise's (played by Thomasin McKenzie) scenes in the modern day.
As well as a downtempo version of the song, Taylor-Joy sang an uptempo and a "Soho version" of the track.
She also performed her own take of the song "You're My World" by Cilla Black, and the original also features in the film.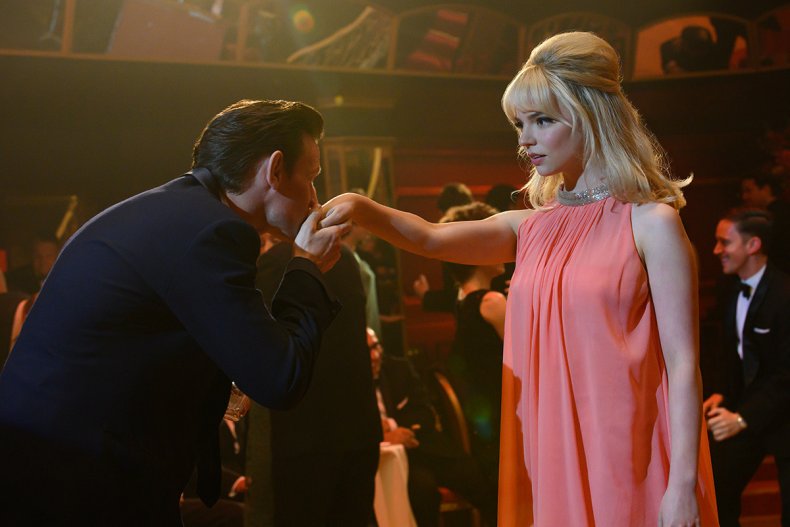 What has Anya Taylor-Joy said about the song?
Taylor-Joy's rendition of the song features on the film's official soundtrack, which was released on Friday, October 29 in conjunction with the the psychological thriller's release.
The Split star is the only actor to perform for the soundtrack, as the rest of the film features songs from the 1960s to reflect the era Taylor-Joy's Sandie lives.
When the music video was released, the actor shared it to her Instagram and wrote in the caption: "Downtown (Downtempo). It's not every day you're asked to record several versions of an iconic song.
"The sounds of the 60s was what first made me fall in love with music so I was overjoyed when Edgar asked me to give it a go."
Last Night in Soho is out in theaters now.
Published at Fri, 29 Oct 2021 11:25:23 +0000
https://www.newsweek.com/anya-taylor-joy-singing-last-night-soho-downtown-1643768