20 'Elf' Quotes That'll Give You All of the Christmas Cheer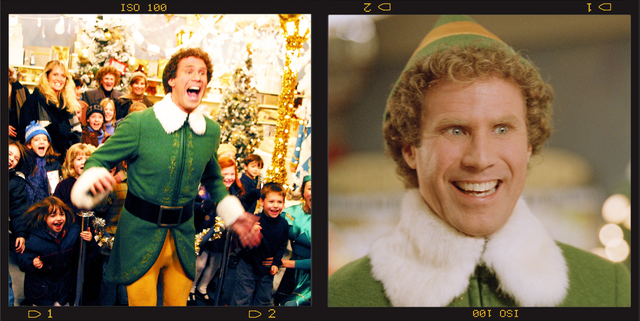 New Line Cinema/Khadija Horton
Ok, so I know Christmas isn't for *checks calendar* a really long time, but so help me if anyone says it's too early to start getting into the holiday spirit. And what's got more holiday spirit than the classic film Elf? Nothing, I tell ya!
When Elf first came out, just the idea of Will Ferrel running around New York City in a bright green elf costume was enough hilarity to make you want to watch it ASAP. And then actually seeing it play out as, dare I say, one of the funniest holiday movies of all time was just *chef's kiss*. It's got so many iconic lines that stick with you the entire year, and if you don't feel the need to answer your phone with "Buddy the elf, what's your favorite color?" for at least a week after watching it, then I'm sorry to say but idk what's wrong with you. For that and many other classic Elf lines, here are 20 of the best quotes from the movie to tide you over until you can watch it again.
Here are the 20 Best Elf Quotes
"So, good news. I saw a dog today." – Buddy
"He's an angry elf." – Buddy
"You stink. You smell like beef and cheese. You don't smell like Santa." – Buddy
"Bye Buddy, hope you find your dad!" – Mr. Narwhal
"Buddy the elf, what's your favorite color?" – Buddy
"You have such a pretty face. You should be on a Christmas card." – Buddy
"I'm a cotton headed ninny muggins." – Buddy
"If you see a sign that says 'peep show,' that doesn't mean that they're letting you look at the new toys before Christmas." – Santa
"Son of a nutcracker!" – Buddy
"Treat every day like Christmas." – Buddy
"We elves try to stick to the four main food groups: candy, candy canes, candy corns, and syrup." – Buddy
"SANTAAA! Oh my god! Santa, here?!? I KNOW HIM!" – Buddy
This content is imported from Giphy. You may be able to find the same content in another format, or you may be able to find more information, at their web site.
"The best way to spread Christmas cheer is singing loud for all to hear." – Buddy
"I'm in love! I'm in love! And I don't care who knows it!" – Buddy
"You sit on a throne of lies." – Buddy
"You did it! Congratulations! World's best cup of coffee! Great job, everybody!" – Buddy
"Have you seen these toilets? They're ginormous!" – Buddy
"I'm singing!! I'm in a store, and I am singing. I AM IN A STORE, AND I'M SINGING!" – Buddy
"This place reminds me of Santa's workshop. Except it smells like mushrooms and everyone looks like they want to hurt me." – Buddy
"I just like to smile. Smiling's my favorite." – Buddy
This content is created and maintained by a third party, and imported onto this page to help users provide their email addresses. You may be able to find more information about this and similar content at piano.io
Published at Tue, 09 Nov 2021 19:48:00 +0000
https://www.cosmopolitan.com/entertainment/movies/a38193153/best-elf-quotes/